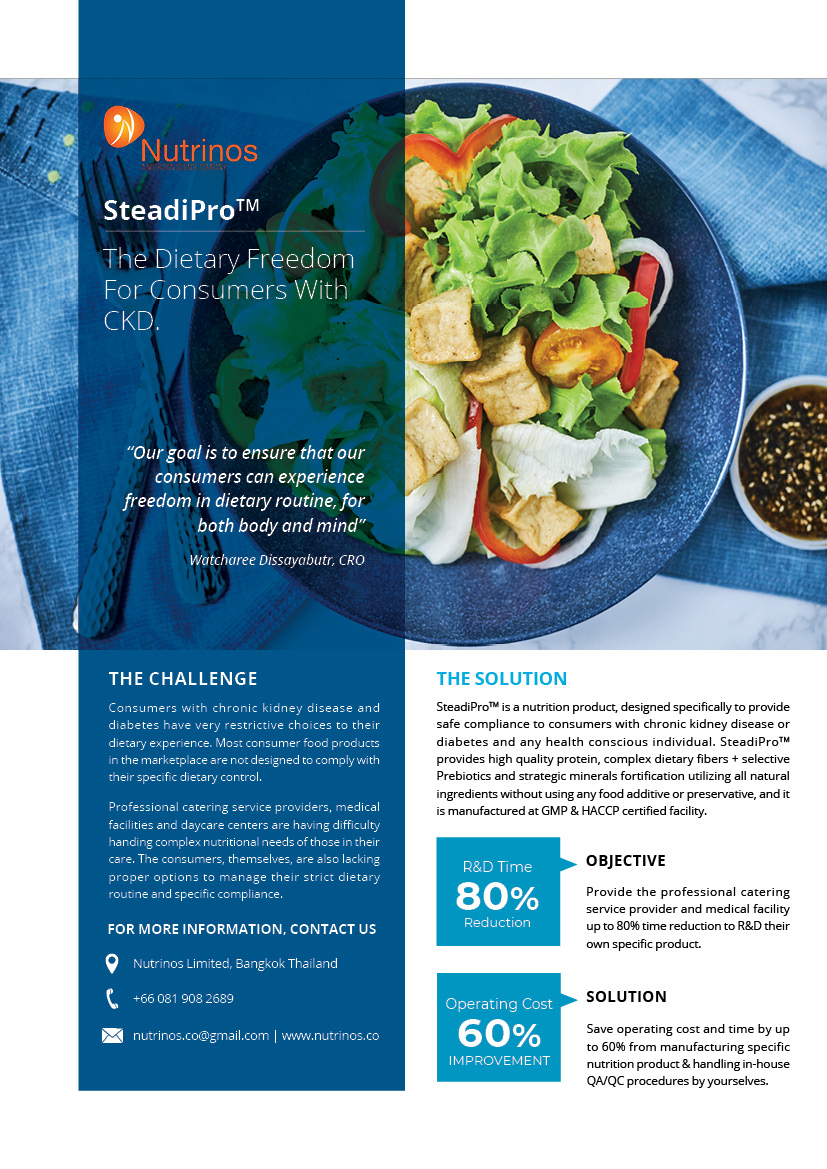 SteadiPro, CKD-Safe Nutrition Products
SteadiPro is a nutrition product, designed specifically to provide safe compliance to consumers with chronic kidney disease or diabetes and any health conscious individual. SteadiPro provides high quality protein, complex dietary fibers + selective Prebiotics and strategic minerals fortification utilizing all natural ingredients without using any food additive or preservative, and it is manufactured at GMP & HACCP certified facility.
Significantly Reduces R&D Time – Provide the professional catering service provider, medical facility and daycare center up to 80% time reduction to R&D their own specific product

Greatly Optimizes Operating Cost – Save operating cost and time for the professional catering service provider, medical facility and daycare center by up to 60% from manufacturing specific nutrition product & handling in-house QA/QC procedures by yourselves

The Dietary Freedom for Consumers with CKD and DM – Designed specifically to be low sodium, potassium and phosphorous suitable for ,Chronic Kidney Disease or CKD, compliance management. High fiber and high quality protein to aid both daily dietary management and recovery from prolonged medication
SteadiPro looks exactly like a fish tofu, with much better texture and taste compared with egg white powder based products and other products such as Albumin powder and other conventional medical food products. Consumers with CKD can now experience real food with safe compliance for their medical conditions.
SteadiPlus
Nutrition Snacks
Steadi+ is Nutrinos' functional food product brand, Steadi+ platform of nutrition science product in form of snack consists of several SKUs which are designed specifically to be suitable for consumers with cancer, chronic kidney disease, diabetes, allergies and others with sensitive health concerns. Steadi+ tastes even better than regular food products and also suitable for consumers who wants to stay healthy and fit!
Nutrition Science Driven – Each product is designed from the ground up to incorporate modern research trend and proven ingredients with real-life health benefits

Professional Design Approach – Each product's development process consist of designing nutritional benefits including selection of nutrition facts, raw materials, allergy and consumers' medical implications. Designing consumers' experience including delivery method, taste and texture along with sensitive unique concerns such as experience and safety of elderly with difficulty to swallow or with risk of choking

Highest Ethical Guideline – Packaging and marketing materials are designed in compliance with international FDA code on Labeling & Nutrition guidelines to maintain highest ethical standard, accurate nutritional information and knowledge to ensure consumers' sustainable safety and benefits
Consumers do not need to have any kind of health issue to enjoy stead+, just simply be any individual who wants to maintain long term healthy life style. You will be able to purchase Steadi+ at leading supermarket, drug stores and our selected reseller stores near you or call us to buy online and have the products delivered directly to your door step.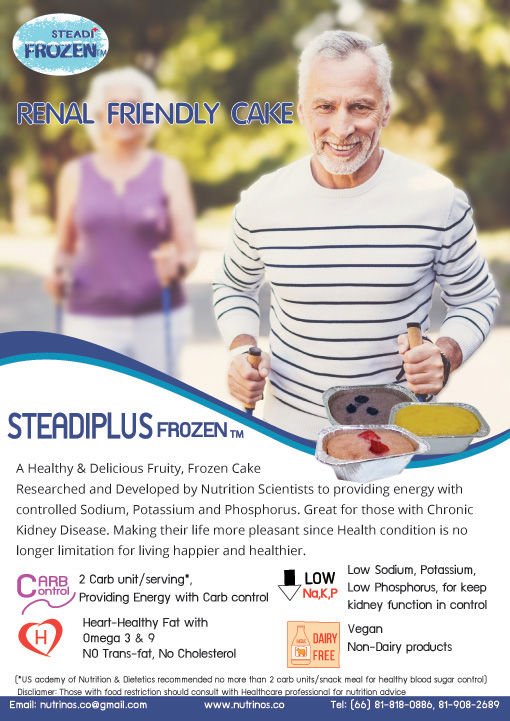 SteadiPlus Frozen
Steadi+ Frozen is a platform of our frozen nutrition science products. Consumers can enjoy our frozen products such as cancer friendly, diabetic friendly, renal friendly and allergy free cakes with ease of mind.
Nutrition Science Goodies – Steadi+ Frozen shares the same product design and safety approaches as our entire Steadi+ nutrition science product platform

Amazing Taste – Our great taste policy breaks the tradition, consumers always believe that for the food to be healthy it has to taste badly. Steadi+ Frozen tastes even better than normal product consumers can buy at regular store, thanks to our nutrition R&D team

Good For Cancer & Kidney Disease – Consumers with cancer and chronic kidney disease normally finds themselves in a very sensitive health condition. Steadi+ Frozen is designed by our nutrition scientist to provide consumers with strict compliances a boost in required nutrients to combat challenging medical procedures. Most importantly, Steadi+ Frozen helps improving happiness which will greatly assist consumers to successfully go through fragile mental stage during the treatment
Look for Steadi+ Frozen at hospitals, leading retail and specialized health product stores near you today or call us to buy online and have the product delivered directly to your door step.
Diabetic Patisserie
Made to order
Diabetic Patisserie offers freshly baked pastry products which our nutrition scientist works closely hand-in-hand with our professional pastry chef to bring back happiness for special events, birthday, family and office party or as a gift for consumer with sensitive health concerns. Imagine family with diabetic members or other sensitive health limitations can enjoy birthday cake all together again!
Balanced Diet Solution – To achieve pleasing experience from the beauty to taste, our nutrition scientist designs key ingredients and nutrition facts then our pastry chef design approaches and techniques required to make the finish pastry product looks gorgeous and most importantly tastes amazing. No artificial sweetener and food additive which may cause long term health issue will be used. Combination of low GI sugar types and other ingredients will be used and monitored closely by our nutrition scientist to render wonderful balanced diet experience for the whole family or party

Flexible Compliance Solution – Diabetic Patisserie offers flexibility for our pastry products to be made for each individual consumer's specific health requirement such as allergy, diabetes, cancer, chronic kidney disease and other sensitive compliances or even in combination. Consumers can be confident that our pastry products will provide health benefits that are scientifically sounded, great taste and wonderful experience

Unique Memorable Experience – Based on our consumer research, it is most difficult for a person when drastic change in health condition strikes but it's most severe when a person starts to realize that they can no longer perform simplest things in life they used to be able to and one of them being eating. Imagine giving back the happiness to elderly with difficult health conditions or a little child with serious gluten allergy on their birthday!
Feel free to call us to discuss your specific requirement or get a free consultation from our nutrition scientist or pastry chef. For us to deliver you a unique pastry product and experience please order at least 7 days in advance.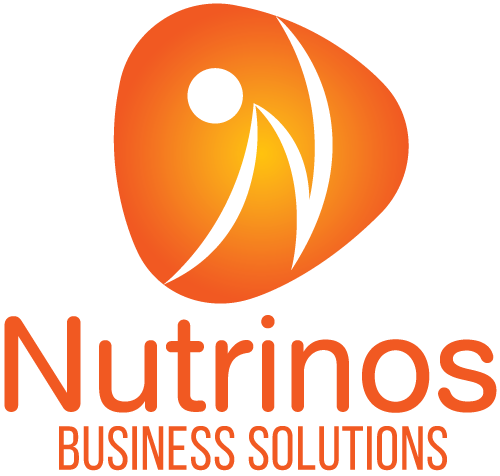 Nutrinos' Business Solutions
Our nutrition science service platform will enable hospital, daycare center, chain restaurant, café, coffee shop, government and corporate facility all the way to commercial airliner to compete and grow with true sustainable competitive advantage.
Chain Business Solution – Hospital, daycare and chain restaurant, café, coffee shop and specialized retail stores of any size can resell our nutrition science food product either pastry or savory in their stores. Food products carrying Nutrinos' brand are delivered to customer's location by third party logistic provider. The products are manufactured at our partners' manufacturing facility with appropriate certification depending on the type of food product. Siamcookery handles production and quality and our customers handle their sales and business operation

R&D Solution – Corporate customer looking for R&D service for their new proprietary recipe will be able to benefit from our expertise and cost effective solution. Our science and R&D team will develop new recipe for you under balanced diet theme, nutrition science and lab report as well as detailed work instruction will be delivered at the end of the project. Training and industrial upscaling service is also available for customer looking for internal production upgrade
Connect with us today to discuss how our nutrition science service platform can benefit your business or get a free consultation from our business strategist.